The

US-2000 TRS-SLM Aligned
Stacker
, can be directly connected
to a saddlestitcher or adhesive binder
with a stacker and transfers the
product stack (1 to 3 up) at full
speed capacity, delivering a perfectly
aligned product stack thanks to the
alignment on all sides of the stack
and the soft or hard stack
compression before banding.
By banding with adjustable tension,
printed products are bundled without

any damage to the edges
The

Automatic US-2000 PIC-CB,
with Pin Conveyor
, allows round or
bulky articles and products of
different sizes to be banded easily.
The pin conveyor pushes the
products, which are placed by hand
into the banding machine.
Products can be placed without
interrupting the machine.and get
banded according to requirements
and settings made by the customer.
The

US-2000 CSW

Corner Slide
Banding Machine with Separator
System,
is ideal for fully automatic
banding of a great variety of stacks.
It is a compact, high performance,
easy to operate banding system with
UltraSonic technology
.
The stacks are automatically
transferred from the previous
machine to the conveyor belt. Upon
in-feeding, the stacks are separated
from each other and pushed directly into the banding machine by
the corner slider. The bundles can be tightly banded once or twice
as needed, but still protecting the edges.
Options: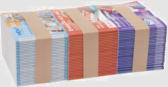 •
No odor build up
•
No change over from paper to film band
•
No preheating time, immediately operational
•
Computer controlled and LED failure indicator
•
Dispenser for jumbo rolls is standard
•
Less maintenance: no burnt film deposits
•
Replacing of heating elements is eliminated
•
Easy format-change
•
Edges-protection banding
•
Products in different sizes can be banded
•
US-2000 can also be used as a stand alone machine
The

US-2000 FAB-A In-line Stacking,
Banding, Folding Machine
(and
banding off folder) is ideal for stacks
and edge-protection banding behind
folding machines and saddle stitchers.
It can be attached to folding
machines of all manufacturers. All
kind of formats from A6 to A4 can be
worked on. Depending on the
product, the machine processes up to
200 m/min.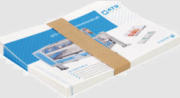 •
US-2000 with 30 mm or 50 mm band width available
•
As delivery behind folding machines
•
As stacker behind saddle stitcher
•
On rolls for flexible application moveable
Options:
•
Delivery table
•
With or without US-2000
•
Machine on stop-break castors
•
Digital measuring system (DMS)
•
Measures & labels stacks of varying sizes
•
Bands them once or multiple times
•
Infeed delivery with Shuttleworth Side centering of stacks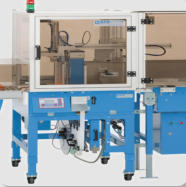 It is possible to band up to 30 stacks/min, the machine can work
with or withoit banding.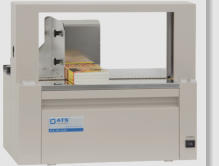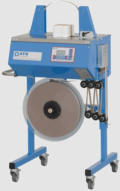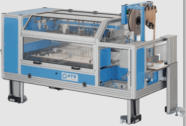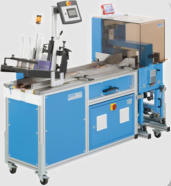 Capability in Banding Machines
and Packaging Equipment
ULTRASONIC BANDING MACHINE
US-2000 FAB-A Folding Bundler - Edge-Protection Banding
US-2000 PIC - CB
Automatic Pin Conveyor Belt with Feeder
US-2000 CSW Corner Line Banding with Separation System